Discover more from Oops Pow Subscribe
An eternally incomplete guide to the gooder things in life
We Can't Have Nice Things
Why racism threatens the bubble and wubble in a way we figured only the coronavirus could.
Hi, friends. Anything happen in the last few months?
It's really quite something to start a newsletter dedicated to good things, right as the world around us lurches into a ditch, then ruptures its gas tank and bursts into flames. Great timing, Adam. But sports are back and quite possibly worth talking about, and here are some things that I think.
STICK TO SPORTS
Longtime sportswriter Jane McManus said* in May, "Sports are the result of a functioning society, not the precursor." She said that in terms of the coronavirus at the time, but it's not a self-limiting statement, and we're seeing it manifest again.
*A similar quote has since been credited to pitcher and all-around mensch Sean Doolittle, but the message was Jane from the jump.
As you undoubtedly know, we're currently trying to make sports happen without mitigating the coronavirus in the general public. The NWSL created a "bubble" and made it work, finishing its season with a thrilling tournament, and its men's equivalent MLS did the same.
It was, frankly, a moonshot.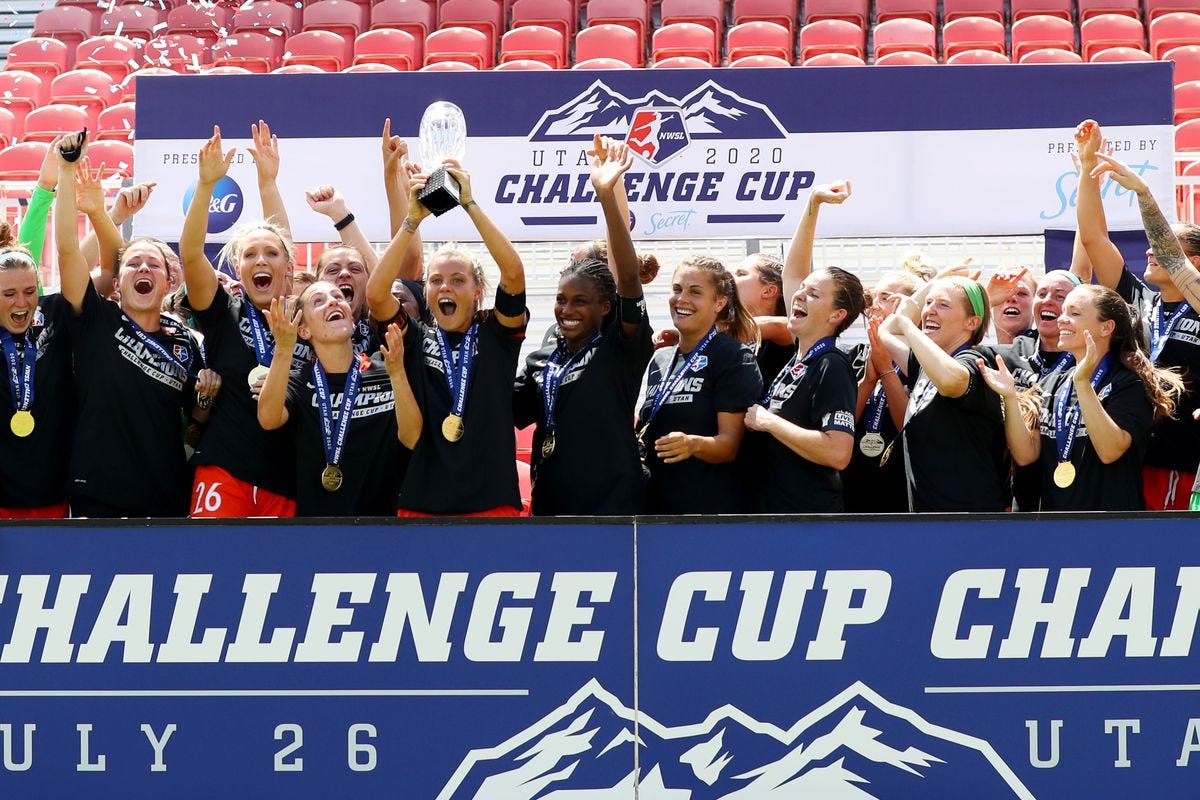 (Image of the NWSL Challenge Cup via All For XI)
Coming into the year, there was no modern blueprint for conducting high-contact sports in the time of a highly infectious disease. 2020 spring sports, including pro and college basketball, threw their hands up immediately and it was widely regarded as the right move, and there's not a qualified epidemiologist who would tell you today that it was in fact an error. Unlike the usual, mutually-agreed-upon hazards of competitive sports, this disease was freakishly contagious, and although the threat to the athletes themselves was generally (though not always) mild, their ability to spread it posed a grave threat to every older and/or immune-challenged person around them, including coaches, support staff, parents and grandparents.
But with access to reliable testing and screening and a shared ethos of virus eradication, soccer made it work.
The NBA and WNBA are currently bubbled up in the Magic Kingdom in Orlando, soccer's blueprint in hand. The results have been tremendous. Thanks to mandatory quarantine, strict security and strong encouragements to maintain "bubble integrity," there has been no contamination to disrupt any team's seasons as they roar toward more satisfying conclusions to their 2020 seasons. Or at least—well, we'll talk about that in a bit.
The success of the protocols backs up what any virologist would have told you for decades: the virus is only unpredictable or destructive if you're giving it room to operate. The NBA and WNBA didn't. They've reaped the rewards on camera, right in front of us. We might want to learn.
But remember: McManus said sports are the result of a functioning society, not just a virus-free one. And the function of American society would be dangerously frayed these days even if nobody was sick.
George Floyd had the police called on him on suspicion of a counterfeit $20 bill*. A police officer deliberately knelt on his neck for 8 minutes and 46 seconds, cutting the oxygen and blood flow to his brain, murdering him in broad daylight as he called for mercy in full view of the public.
*Quick check: How many of you are confident enough to wager with your life that you've never spent a counterfeit $20 bill, ever?
In March, Police officers burst into Breonna Taylor's apartment as she and her boyfriend slept, and when her terrified boyfriend opened fire on the intruders, the police murdered her in her bed. Her murderers continue to walk free in Louisville as the Kentucky attorney general sits for months on end with the decision to indict her murderers for the crime.
Ahmaud Arbery was a Black man running through a segregated-for-whites (unofficially, but… you know) neighborhood near Brunswick, Georgia, when he was cornered by several whites and murdered in the street after a brief struggle when the gun was pulled on him. An accomplice recorded the ordeal; presumably with the understanding that a white-friendly prosecutor would be able to interpret any desperate acts of self-preservation by Mr. Arbery as justification for his murder. And indeed, it took months and intense public pressure for prosecution of this murder.
Elijah McClain was by all accounts a gentle young Black man who worked as a massage therapist, played the violin and volunteered at an animal rescue shelter. Just in case you thought "respectability" was more than a convenient out for racist murderers. When walking home from a convenience store in 2019, McClain was accosted by several Aurora, Colorado police officers because a 911 caller claimed to see someone in a ski mask moving their arms; he was severely beaten, choked, injected with ketamine, and suffered cardiac arrest en route to the hospital where he died. Only the social movement of this year prompted a review of his murder, and those murderers continued to serve as police officers until they taunted the memory of his murder by posing at protests. There remains no remorse for murdering him.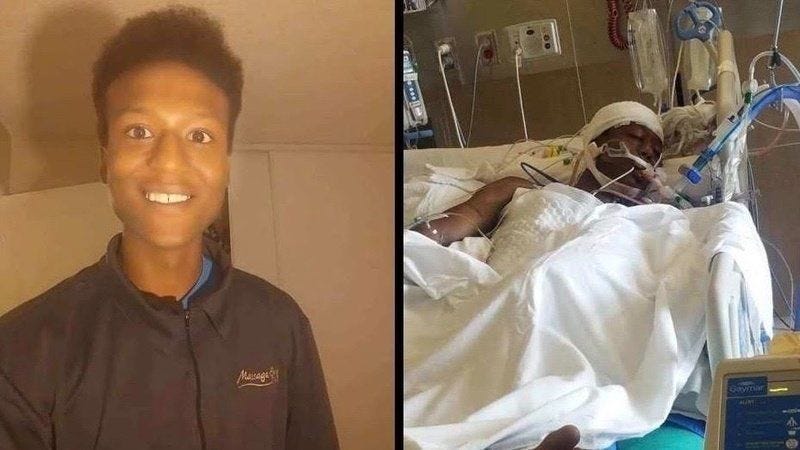 (images of Elijah McClain via the Colorado Springs Gazette)
These murders are not unique to a time or space, but they are intensely American. "Black Lives Matter" is not just an organization or a movement, it is a plea, one that cannot be adequately extinguished by the "all lives matter" retort or its more noxiously fascistic cousin "blue lives matter." These venomous portions of the discourse, too, are intensely American.
"Black Lives Matter" asks our cities, states and country to investigate and prosecute the murders of our fellow Black Americans, particularly when these murders are carried out by agents of the state. It asks our fellow Americans to mourn these deaths instead of seeking to justify them. It asks our law enforcement officers to not see a Black human being as eminently more disposable than, well, someone who looks like me.
Those requests cannot be claimed as fulfilled. Not with a straight face. Not into the eyes of a Black American.
I THOUGHT THE HEADER SAID STICK TO SPORTS
In 2019, as his Toronto Raptors were set to celebrate their incredible NBA Finals victory over the Golden State Warriors dynasty (the host, importantly, as will immediately be made clear), team president Masai Ujiri was on his way to the court to join his reveling players when he was accosted by an Alameda County Sheriff who shoved the large, suited African man with a visible security badge twice before the situation was defused by interveners. The officer then preemptively sued Ujiri and remained on sick leave, citing damages that cannot possibly have come from the confrontation and collecting over $300,000 per annum in pay plus benefits. The Alameda County Sheriffs Office has not rescinded its unconditional support of the officer even after body cam footage was released, showing him to be the unmistakeable, repeated aggressor. Regardless of the outcome of the civil actions, Ujiri's moment was forever taken from him by this aggressive officer. Perhaps that was the point.
So, the bubble. For the WNBA, it's the "wubble." America's finest basketball players cordoned off in some of DisneyWorld's hotels and recreational areas, playing in modified convention halls. It was a lot to ask of the athletes, and remember, they weren't immediately on board. Safety was one thing. But the Black Lives Matter movement had begun, and asking the players to come back was, essentially, asking them to leave their communities in order to play a game. When so many of them are Black and fighting for the lives and dignity of fellow Black Americans, that's an extraordinary request regardless of the pandemic.
So when you see Black Lives Matter on an NBA/WNBA court, when you see NBA and WNBA jerseys emblazoned with slogans that were anathema in professional sports as recently as a few years ago, when athletes use their press appearances to demand justice for Breonna Taylor as her murderers continue to work as police officers, understand that these were conditions for the athletes to come back to work.
To do anything less would be to lose the message, and in a societal moment like this, that was unacceptable. Even then, NBPA vice president Kyrie Irving didn't want to start the season back up at all, thinking the messaging was window dressing and ultimately detrimental to the fight. Irving was widely derided at the time, but he had dozens of players who agreed. Presumably some of the BLM-heavy programming was added to help provide the moral cover necessary.
And it all worked… until it didn't.
---
Kenosha, Wisconsin, is approximately 1,200 miles north-northwest of the bubble in Orlando, Florida. 45 minutes south of Milwaukee, and not much further to Chicago. But it could have been anywhere in America, because virtually everywhere in America has been the site of something like this.
In Kenosha on Sunday, Jacob Blake was at the scene of a domestic dispute; his attorney said he was there to break up a fight between two women. He tried to leave when police arrived — his three children were already in the car — and when they tried to stop him, he refused. Officers tased Blake and shot him seven times at close range in his back, an overwhelming use of lethal force that Blake has somehow survived. He is now paralyzed from his waist down, has had extensive surgery to his intestines and has suffered damage to his stomach and liver. Kenosha officers have urged protestors to not "rush to judgment," all while leaking Blake's rap sheet (a post hoc rationalization, par for the course, that will nonetheless satisfy supporters of police violence), tear-gassing protestors and offering only token resistance to armed right-wing militia members — a decision that resulted in a 17-year-old from Illinois with an assault rifle murdering two protestors and injuring a third. Kenosha police blamed the second shooting on protestors for violating the curfew order. This will not get better.
For the Milwaukee Bucks, this latest instance of police violence was enough to shatter the illusion that the athletes had been doing "enough." Milwaukee is a famously segregated city — its metro area is even more segregated than New York and Chicago's, which beggars belief — and segregation is often enforced by police, sometimes at direct request of white citizens. Guard Sterling Brown survived police brutality in 2018 after they accosted him for double-parking at a Walgreens. Center John Henson was racially profiled and harassed in 2015 while trying to shop for jewelry. Lord only knows how many more of these stories these two and their teammates have heard from their friends and loved ones who don't have the cover of fame and fortune.
So when the pregame clock hit zero on Wednesday's scheduled Game 5 between the Orlando Magic and Milwaukee Bucks, only the Magic and the referees were on the floor. Call it a strike, a boycott, a protest, a postponement, a wildcat, whatever — the Bucks refused to play basketball as scheduled. Teams from the two later games on Wednesday quickly followed suit, right around when LeBron James told the world he'd seen enough.
And give sports media credit: they were there to meet the moment (as these people have been, every day, for decades.)
The WNBA, long a vanguard in protest and social justice, was ever ready to show solidarity with their brethren. The Washington Mystics arrived at the arena on Wednesday with shirts that spelled out JACOB BLAKE, and seven bullet holes painted on the back of each.
Initially the league planned to play, but had planned to stop every seven minutes for protest. According to WNBPA president and Sparks forward Nneka Ogwumike, as the day went on and team meetings continued, each of the four teams scheduled to play decided that it was best to stand with the NBA players, even as their own calculus as female basketball players differs significantly:
For now, they're all still in the bubble, but lord only knows for how long.
At a league meeting Wednesday night, the Los Angeles Clippers and Los Angeles Lakers — with LeBron's guidance — expressed their desire to end the season. LeBron cited NBA commissioner Adam Silver's ongoing absence* and wanted concrete actions from the owners, who had heretofore limited their engagement to platitudes of varying strength. LeBron knows the biggest pocketbooks matter the most, and as police murders continue, mere lip service will not keep athletes on the floor any longer.
*Silver's absence is especially curious in contrast to WNBA commissioner Cathy Engelbert, who gave an interview with ESPN2 at midcourt after those teams had canceled the day's games.
This is a pivotal moment in professional sports history. This is the moment where the athletes need to find out whether or not they're actually being heard, whether their message truly matters, or if this is all just words on floors and jerseys.
Of course, centuries of racism and the (relatively) recent pattern of increased police aggression cannot be wiped away by anything the athletes can do, whether it's playing or speaking, inside the bubble or out. That's an insane end goal, a utopia, and likely any of the athletes would tell you as much.
What's missing — what has always been missing, and what has been the primary plea of Black Lives Matter — is accountability. Jacob Blake is assuredly not the last unarmed Black American to be brutalized by needless police violence. If his attempted murder goes unpunished, though, it will be a stark reminder that the necessary progress has not been made.
According to Wojnarowski, this wasn't just some gesture; the Milwaukee Bucks used the day to contact their officials, and among the requests made by the players was a reconvening of the Wisconsin legislature to address police brutality.
In a functioning society, there would be swift justice for Jacob Blake, justice for Breonna Taylor, justice for Elijah McClain, justice for Atatiana Jefferson, justice for George Floyd, justice for Sandra Bland, justice for Tamir Rice, justice for the countless numbers of Black lives that the state and its armed officers have so long seen unfit to protect or value.
In a functioning society, these demands and daily appeals to human decency would not have to be made by the most high-profile athletes; they would not have to be made at all. In a functioning society, all lives would matter.
We do not have a functioning society. We cannot have nice things. I do not have a more optimistic ending for this portion.
STICK TO AFFIRMATIONS
Thanks for joining me today. We'll always end on a kind word.
I'm so thankful that you're still with me. It has been impossible to know what to write, what to ask any of you to read in the face of all of this sustained chaos. We have no playbook for surviving this confluence of chaotic events. What we do have is support and love. What we have is each other, and what we have is ourselves. We wake up every day having survived everything that has come before us. We wake up with the support of everyone else who has also made that journey of survival. We are so much more of a force together than apart. It feels so much better to — metaphorically — put your arm around a shoulder than to shove it.
Thanks for sticking around, friend. We've got this.