Discover more from Oops Pow Subscribe
An eternally incomplete guide to the gooder things in life
STICK TO DOGS
Let's start off as quickly as possible: here is three full minutes of a dog named Stella absolutely hauling ass into giant piles of leaves like it's her god-given mission:
I'll just leaf this right here... Stella's greatest leaf jumps of ALL TIME. Also Judith (her pupperfly alter ego).
#leaflife
#keepbeingyou
Here is the thing about labrador retrievers: they are adorable and kind and smart and, given a modicum of training, great family dogs. They are also the closest thing we have to a perpetual energy machine on this planet Earth. If you want to know how much exercise your lab needs, the answer is "more." It's like asking how much money do you need to live in New York City. More. More. Labrador retrievers constantly have Metallica playing in their heads, the old Metallica before they all got haircuts.
OK wait—almost like that. Because I just watched some old live Metallica and they're all so angry! With the middle fingers and whatnot! That's not a yellow lab vibe at all. Labs are going at mach 12, sure, but not because they're angry. So, not Metallica playing in their heads, more like… hmm, maybe Babymetal.
Hold on. We need to discuss Babymetal.
STICK TO BABYMETAL
There are two reactions that people give when you ask them about Babymetal:
PERSON WHO HAS NEVER HEARD OF BABYMETAL: I have never heard of Babymetal.
PERSON WHO HAS HEARD OF BABYMETAL: [eyes widen] Oh my god. Have you seen them?
There is no in-between.
So if you don't know what you're in for, I'd like you to stick with this for as long as it takes for you to understand exactly why they're called "Babymetal"—the screencap is a pretty major spoiler, but it still doesn't prepare you for this, not entirely. Buckle up.
On paper, it's flatly ridiculous. Three little Japanese girls fronting a metal band, in a very Japanese, very teenage girl way. It's hard to think of a more startling juxtaposition in, like, all of recorded music (prove me wrong, I beg of thee). It should not work.
And yet, even after the shock/novelty wears off, the sheer scope of what they're pulling off becomes more impressive. There's real production value, choreography, and an irrepressible energy pervading every inch of the operation.
It's metal by children, yes, but—and this is the key distinction—not for children. If their backing band came out playing Fisher-Price guitars and half-assing power chords, the shelf life on something like this would be about five seconds. The cardinal rule for a heavy metal band is simple: do not waste fans' goddamn time, and sure enough, here's Babymetal—christ, they're named Babymetal—getting after it.
I can't believe this works. Again, IT SHOULD NOT. But Babymetal sells out arenas, packs them to the gills, and puts on performances as grandiose as any stateside act:
Just give that one two minutes—or hell, do the whole thing, you're not at the office. That, friends, has gone so far past the "gimmick" stage that by the end, the fact that it's three little Japanese girls fronting a metal band seems like one of the least remarkable aspects of the whole deal.
Babymetal, man.
STICK TO GETHER
I don't watch much television these days [brief pause while you all throw flowers at the feet of me, the Very Brave Non-Television Man] but now's about the time when we could really use a lot of television. In case you hadn't noticed.
If you're in the mood for a new recommendation, might I suggest Lego Masters, Wednesday evenings on Fox, a palate cleanser after the nightmarish, dystopic The Masked Singer immediately prior. No, we're not going to discuss who was just on that show. We're here for the Legos.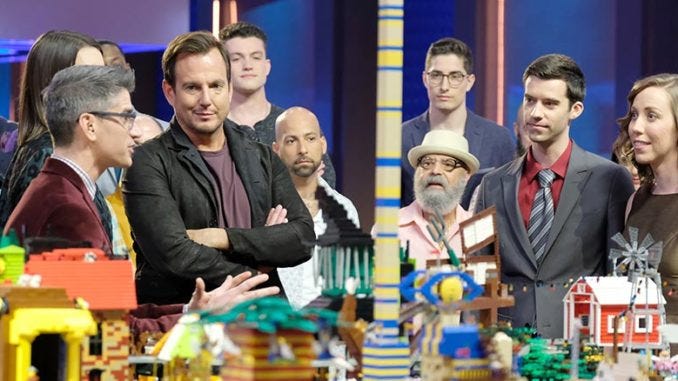 Brief synopsis: Will Arnett hosts a reality competition where a dozen pairs of contestants are given themed assignments for building large, creative Lego structures. A pair of Lego creative executives provide advice during the round and judge the contestants' submissions. The structure is by-the-book—more on that later—with winners chosen at the end of every episode and a losing team sent home. Onward the season marches.
OK—as you might guess, I grew up building Legos. We had a giant tub in the basement, and even if some instructions had somehow survived over the years we were never going to use them. I wasn't particularly skilled in the things I would build from imagination, but at the same time it never occurred to me that skill, or planning would even be necessary.
With all that said, the skill and planning on display from the contestants is jaw-dropping, and their commitment to the undeniably geeky practice of competitive Lego building is something that both impossible and impractical to fake. Like, you can't, but why on earth would you anyway? Indeed, the geekery breeds a camaraderie among the contestants; as such, the show shines much brighter when the partners' dynamics come into play than any sort of forced rivalry.
That said, it's adults playing Legos, being judged by adults whose job it is to make Legos, going through the rigamarole of weekly eliminations. As with many of the builds, the show's structure looks ambitious but tenuous. Arnett is the saving grace, bringing the same sleazy, scene-chewing energy that made him a star as Gob Bluth. He's not only a perfect foil for the uptight expert judges, he brings out personality and energy from the contestants mid-build. It's tremendous character work from the host, on par with peak Dean Martin.
Additionally, Arnett's ability to wink at reality conventions as he narrates the action helps keep an aging format fresh. Indeed, the format is the show's weak point, both in theory and practice. Yes, you need competition to get a series out of the idea, you need stakes for a competition, and there's no more reliable stakes than "do good or go home" in the whole genre. But something just feels off about sending people home for not doing Legos good enough, especially if you grew up noodling around with them for hours on end.
Remember, this is how Lego used to market itself: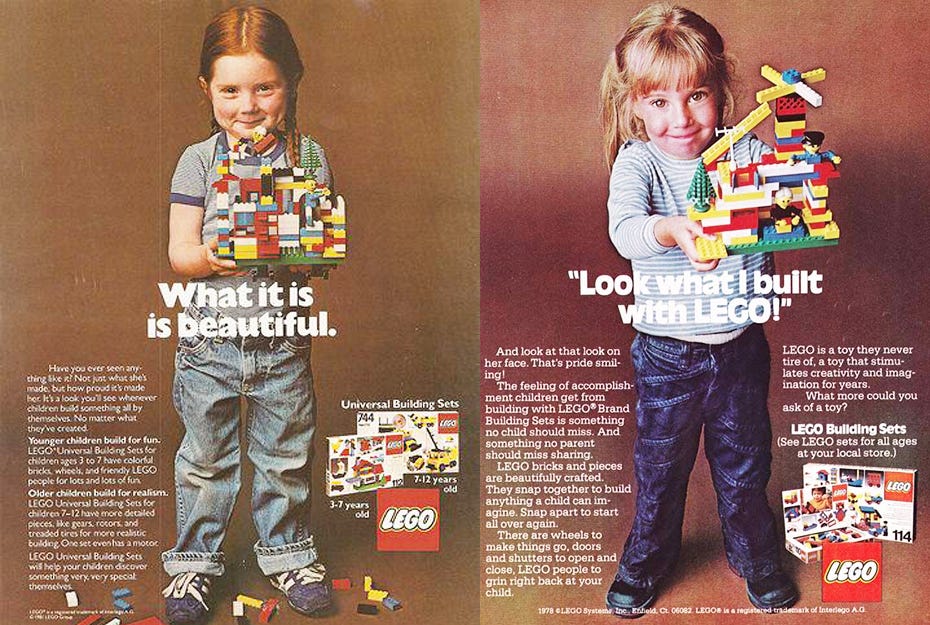 Obviously, those days are long, long gone—from a marketing perspective. But if the underlying appeal of the toy is nostalgia, that nostalgia calls back this dynamic, less so the "you have 12 hours to do a good spaceship or your Legos are taken away and you have to go home" deal of modern television.
That is not to say you shouldn't watch the show, of course! Arnett is worth the price of admission alone, and the winning builds are true achievements in artistry. You'll like the contestants far more often than not, too. The whole thing finds a way to work, sometimes in spite of itself. Which, again, befits the medium.
STICK TO AFFIRMATIONS
Thanks for joining me today. We'll always end on a kind word.
We're in a difficult position right now, aren't we?
There is a national pandemic emergency, and lots of lives are potentially at risk.

Some portion of the population may not be taking it as seriously as you.

We'll never be able to tell the difference between success and an overreaction.

Either way most of us are holed up inside.

And all the sports we'd normally be looking forward to this time of year are gone.
That's a potent recipe for anxiety and uncertainty in any setting—the mandated social isolation only magnifies it.
It's okay to admit the obvious: this sucks. It's okay to be afraid. It's okay to be anxious. Why would we even have that programmed into our brains if not for a situation like this?
Those emotions don't make us weak, they make us human. And just as you'd want to help someone you love through those emotions, remember to help yourself* through them too.
*I won't be the vice police here, but please keep in mind the difference between self-care and self-medication.
This isn't the first time we've been scared or anxious, and in all likelihood it won't be the last. The fact that you're here now means you're strong enough to get through those emotions, and you'll get through this too, however things shake out.
You can do this. Trust yourself and do the right thing.
That's all.