Discover more from Oops Pow Subscribe
An eternally incomplete guide to the gooder things in life
Let's Start Complaining About Selection Sunday Right Now
Also: watch the best baseball player in Angels history play another sport, PLUS watch Mike Trout hit a golf ball extremely far
STICK TO SPORTS
The Impossible Task of Tournament Selection
This is March. As such, the sports world will be dominated by NCAA men's* basketball tournament selection talk—your bubbles, Cinderellas, play-ins and PTPers—for the next two weeks, leading to Selection Sunday. The bracket projections drive more eyeballs and takes than the games themselves, which makes sense; disagreeing's just about as easy as breathing.
*The women's selection show is the following Monday, FYI. There's a strong chance that we could see three teams from Iowa selected in that tourney, and almost certainly an opening weekend hosted in Iowa City, so those of us here in the Hawkeye State will be wise to heed both shows.
The tournament seeding is ultimately a subjective interpretation of objective facts, a process that is neither designed nor expected to please everybody. Which is fine! If there were a perfect process it would already exist. This is the deal. Everybody knows it.
I think the impossibility of "perfect seeding" comes from one overarching quandary: Do you reward the strongest teams or the best seasons? Ideally, the answer is—well, it's "yes." But the best teams do not necessarily have the best seasons.
A couple (completely ridiculous) examples on that front.
A) If you put the San Antonio Spurs in the Big South Conference, three things would happen:
The rest of the conference, the NCAA, and the NBA would all file an injunction within hours.

The College Spurs would go undefeated, winning every game by 30-60+ points, depending on their level of motivation.

The College Spurs would have a good enough resume to get, like, a 5 seed in the NCAA Tournament.
Of course, it doesn't actually matter where you would seed an NBA team jammed into March Madness. They could play the six best seeds in order and it would still be a leisurely stroll to the most confusing championship in NCAA history.
But if the seeding mechanisms can't reflect that, they're only so helpful.
B) If you, instead, replaced the entire Southeastern Conference with the NBA's entire Eastern Conference, again, three things would happen:
The NCAA would ask Congress, and perhaps the armed forces, to intervene.

Those 15 teams would be the 15 best teams in the NCAA.

At least one* of those teams would finish the season with a losing record after getting trounced by its peers in conference play.
*The Knicks.
If you really wanted the best teams in the tournament, you'd have all of them in the big dance, despite the Knicks and Cavs getting elbow-dropped twice a week in "conference" play. But teams with losing records don't get considered for at-large bids in the tourney. The closest we've come was when Georgia earned an 8(!) seed with a 16-14 mark in 2001, and that was met with such revulsion from the college basketball community that you'd think they had played the last half of the season with "MUGABE DID NOTHING WRONG" on their jerseys.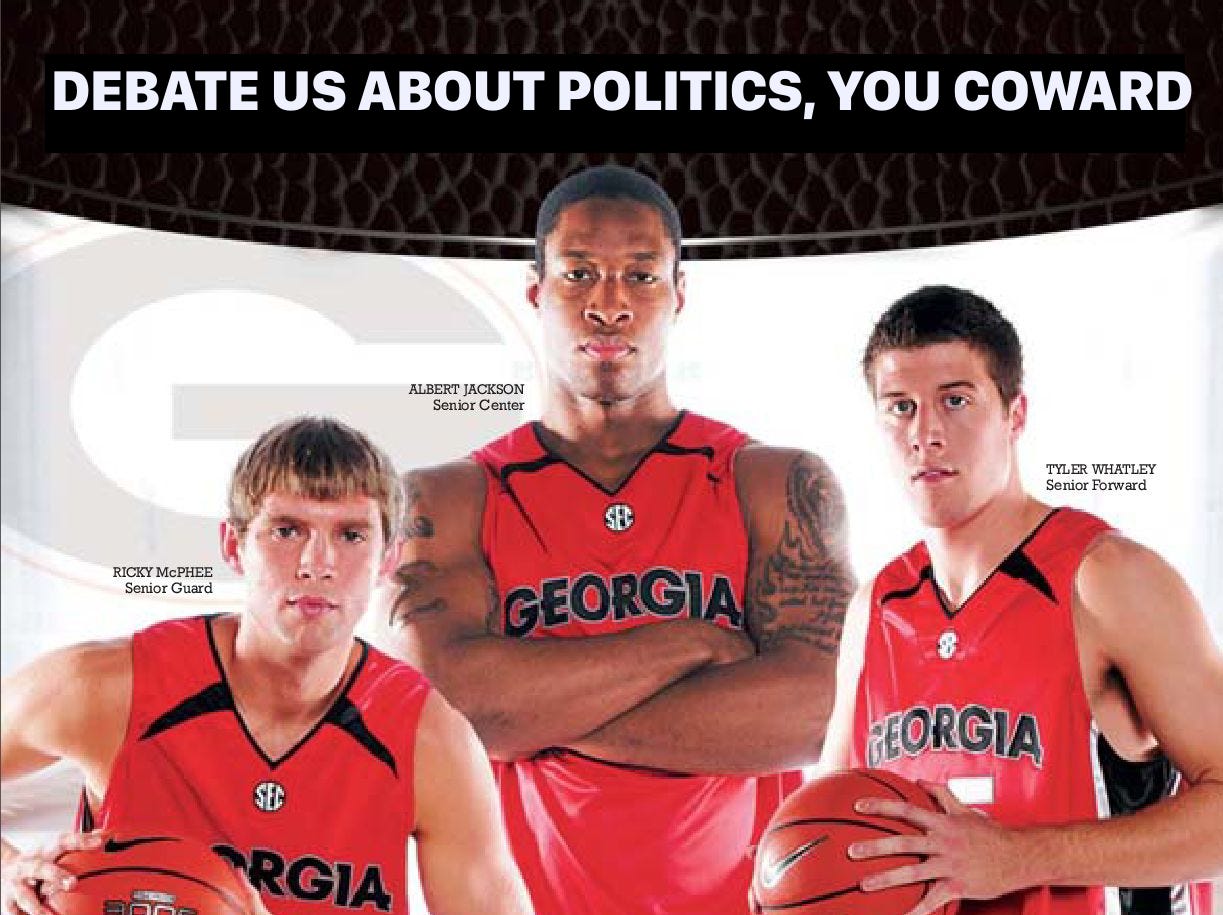 Troubling.
Since then, the general unspoken rule has been to only select teams who are at least five games over .500 and/or have at least 19 wins, especially as the season length has grown with early-season tourneys in the last decade or so. The majority of the at-large bids are multiple games clear on both fronts.
So nobody's come out and said it, but no, the NCAA's never taking another team who's that close to .500 again, strength of schedule be damned. We've had some 19-15 teams in the last few years, but they're the exceptions that prove the rule. On some level, we want to be able to wipe all the metrics away and ask, did they win enough games?
And yet. AND YET.
Every single season, there's a bevy of mid-major teams with 25+ wins who don't win their conference tournament and, much more often than not, get left out of the tournament. Last season, it was Lipscomb and Furman, both 25-7 after their tourney conference losses, both highly competitive in non-conference play, both hamstrung by conferences with inscrutable names like "Atlantic Sun."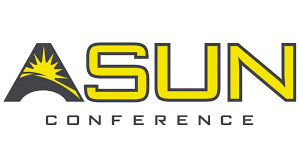 Sure.
Games have to be important. Winning has to be important. For stat-heavy rankings like kenpom.com, losing by 1 point vs. winning by 1 point is scarcely going to move the needle on a team's power ranking, and sure enough these power rankings are much more predictive of future results than polls and schedule-heavy algorithmic rankings like the RPI and NET ratings. But in terms of earning postseason opportunities, you want it to be through wins, not adjusted efficiencies and expected margins, right?
After Sunday's loss to Wisconsin, Minnesota fell to 13-15 on the season and will almost certainly finish with a losing record. Minnesota is also ranked No. 31 in the current KenPom ratings… ahead of Auburn, who sits at 23-5 and a likely 4-seed in this season's NCAA Tourney.
So Minnesota, who has virtually zero postseason hopes yet alive, would be favored over Auburn on a neutral court if they played each other tomorrow. And yet the tournament is gracing Auburn with one of the 16 best seeds in the tournament.
I'm all right with that.
Again: win your games. Just like it's not a mid-major team's fault its conference mates are mediocre, it's also not necessarily to a power conference team's credit when its cohorts are good. Is it really more impressive to go 3-11 against "Quadrant 1" opponents than 0-2? If resume ranking is skewed to reward Quad-1 wins more than it punishes the losses, doesn't it necessarily incentivize membership in power conferences? Which again, is something teams have little to no control over?
All of which is a very, very, very long way to get to me saying that I like it when mid-majors with hefty records make it into the tournament. And now I can tell myself that line of thinking is logically superior.
Put me on the NCAA Tournament Selection Committee already.
What's the Golf Version of 'Barreled'? Club-Faced?
Mike Trout, cleared for liftoff:
If you're wondering how far he hit the golf ball, the answer is it's gone now. It's just all gone. It's not anywhere anymore.
Smash that share button like the thing I just talked about! Topical reference! Am I doing this enough!
The Most Important Question of Spring Training
Let's check in on Yu Darvish, who's preparing for another season with the Cubs amid a Houston Astros controversy that has thrust him back in the public eye. Now that spring training is underway, he's still firing off tweets that make us all think: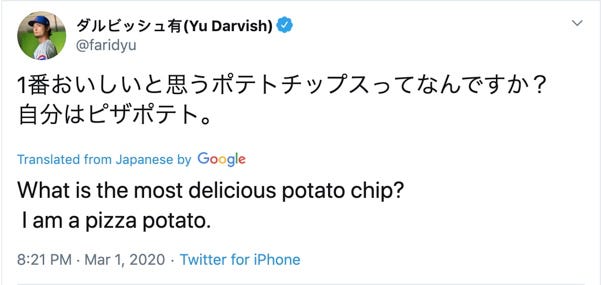 As for the first half of the tweet: Kettle Krinkle Salt & Cracked Pepper. Debate someone else.
And the second half: it's possible that translation is not accurate. It is definitely possible that someone reading this speaks Japanese well enough to tell us what the correct translation would be. It is absolutely certain that I don't want to know what it is.
STICK TO NOT SPORTS
The New York Times Takes Much Better Pictures of Food Than I Do So Here Have This Picture They Took and This Recommendation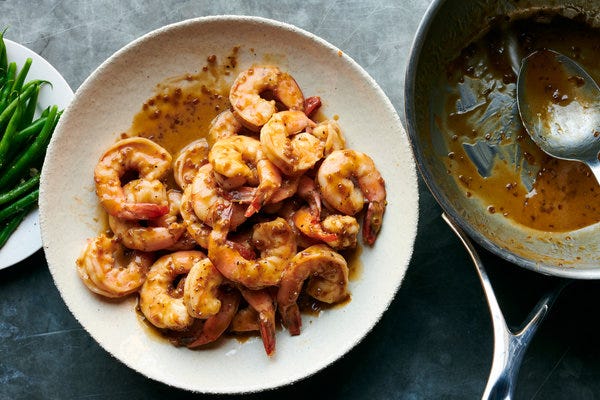 As cooks go, I am not very good. Actually: I can cook very good food, but I am not very skilled. I need good tools, good ingredients and most importantly good instructions. I don't have the skills to make up for a lack of any of those. Also, I'm terribly slow. It just is what it is.
Regarding the instructions: that's why I love what the New York Times has done with its "No-Recipe Recipes" (free subscription needed) Instead of precise ingredients and steps, author Sam Sifton provides a narrative writeup of how to cook the dish, adding quick notes where you can adapt the recipe to your wishes. Pictured above: Barbecued Shrimp. It forces the cook—especially the cook named Adam J. who is writing this right now—to think of the recipe as a singular, malleable process that can be made to work for you, and not the other way around.
The recipes live on Sifton's newsletter (synergy!) and on the NYT Cooking app too; the latter costs a few dollars a month. I'm not about to spend your money for you, but if it sounds cool to you I highly recommend the app. A nice bonus feature is that the screen doesn't time out, so you don't have to touch your phone every couple minutes to keep the instructions on-screen.
Governor, You Uh… You Doing OK?
Among the tragedies of our declining large-media landscape is how many smartass copy editors have been laid off, leaving even our most important headlines vulnerable to, well, this: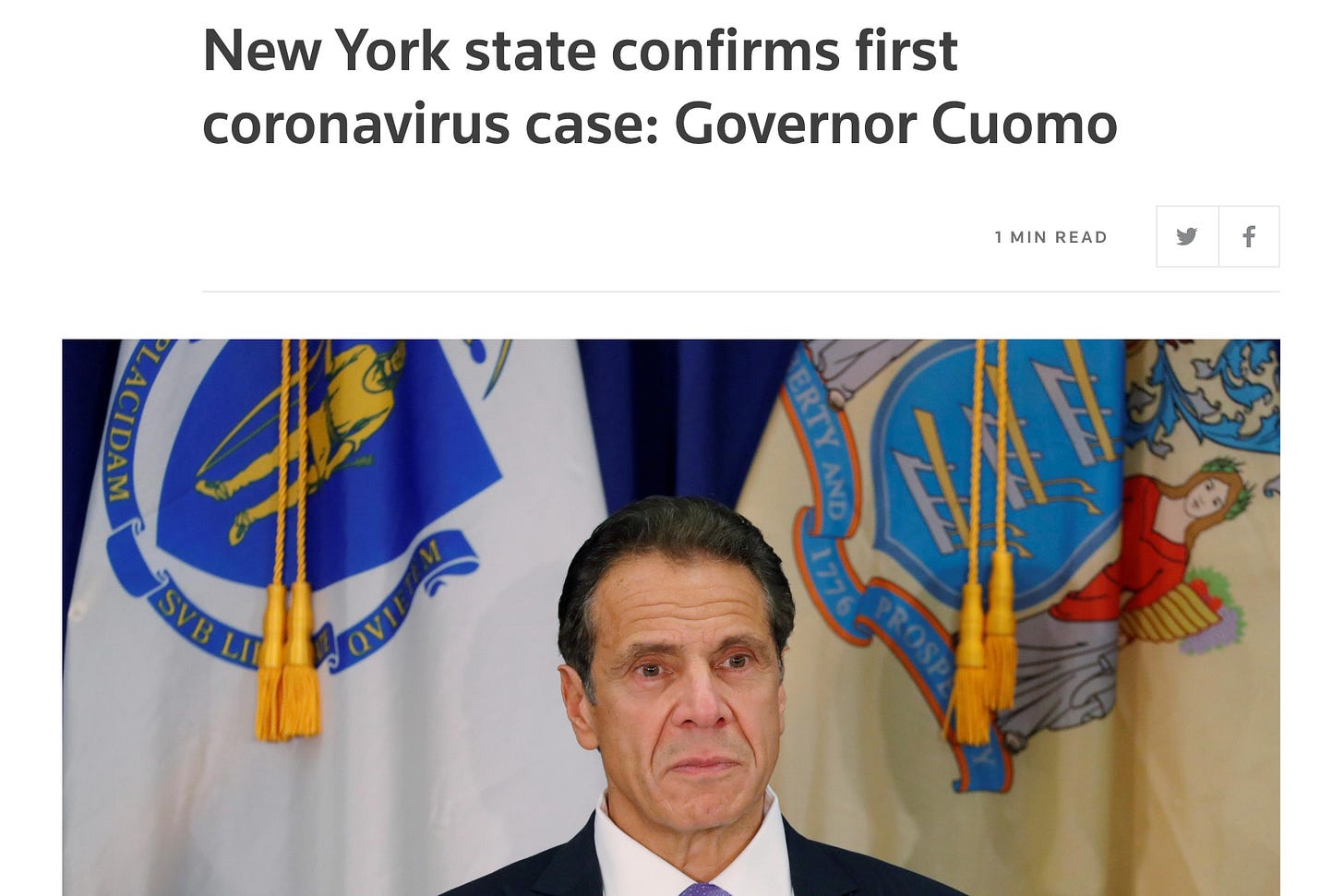 He apparently found out 2 seconds before this picture was taken.
Please pay for journalism, and please wash your hands with soap and water. Look what happens when you don't.
STICK TO DOGS
One time for—and I don't think this is even a controversial statement—the most iconic scene in American cinematic history:
ICONIC SCENE POWER RANKINGS:
Air Bud, Obviously

Incredulous Opposing Head Coach

Oddly Folksy Referee For a Guy Who Looks Like a Retired Accountant

Head Coach with a Full Burgundy Suit for a Children's Basketball Game

Opposing Assistant Coach Who Didn't Want the Head Coach to Have the "Put 'Im In" Line All to Himself

Fan Who Wanted as Much Screen Time as Possible for His Terrible "GO TEAM" Sign

Main Child

Scorer Who Had Never Seen A Golden Retriever Before, Apparently

Assistant Referee Who Is More Worried Than Delighted About Seeing a Dog in Full Uniform Right Down to the Hair Jordans
It's a remarkable introduction to one of the best all-around athletes in sports history, as later, Air Bud would go on to win World Series MVP with the Anaheim Angels. Your move, Trout.
STICK TO AFFIRMATIONS
Thanks for joining me today. We'll always end on a kind word.
Think about a gift, favor, gesture, or other act of grace you've received from a friend or loved one recently. Think about how good it made you feel to have someone be so thoughtful and generous for you.
The good news is that it made them just as happy too, if not moreso. So why not pay that favor forward? Do a kind act for someone today—or make a reminder to do it when you next see them. It doesn't even have to be the most special person in your life, just someone you'd like to see smile. They'll sure be happy you did.
That's all.
Did you like this post? Do you want more of them, as fast and as soon as I can write them? Does that kind of power over my creative abilities fill your veins with the churning magma of the ancient gods? Can there be no stopping you now, just one button away?! Click below to find out!