Discover more from Oops Pow Subscribe
An eternally incomplete guide to the gooder things in life
I Hope It Ends Well For Giannis And Them
The Milwaukee Bucks' historic season, a miraculous stray pup, and Norm at the roast
STICK TO SPORTS
Giannis D is the Best Policy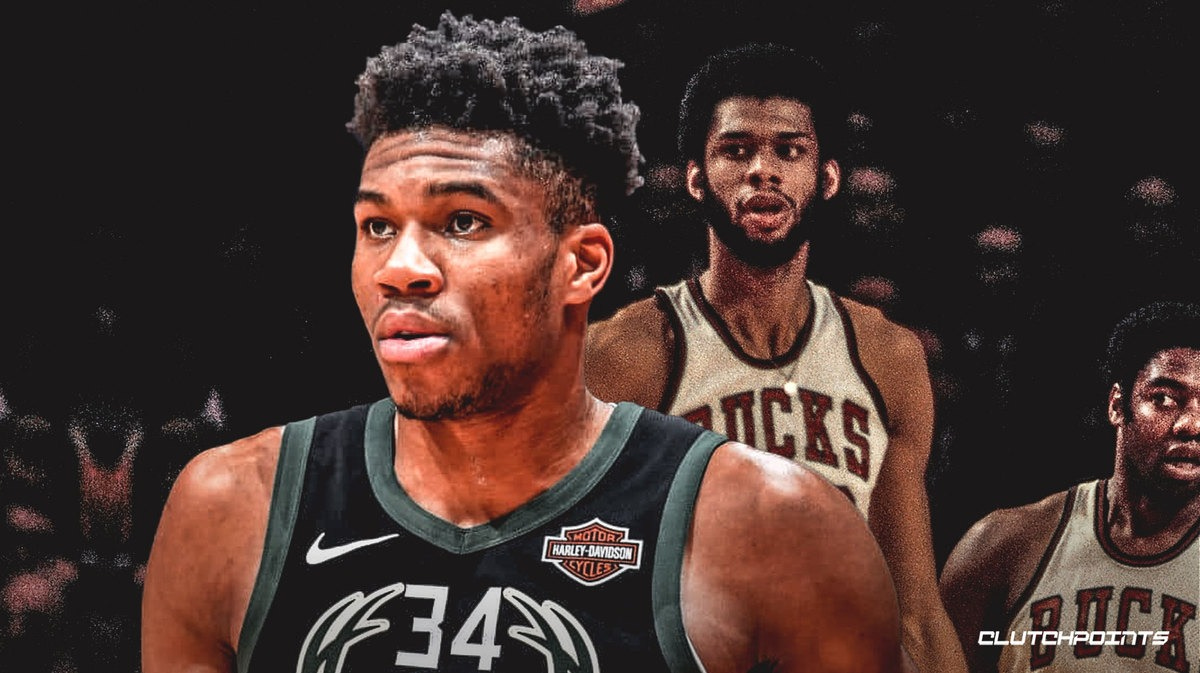 The Milwaukee Bucks host the resurgent Oklahoma City Thunder tonight on ESPN. Milwaukee is coming from Toronto after dispatching the defending champion Raptors with relative ease*, 108-97, on Wednesday night. Reigning MVP Giannis Antetokounmpo led the way with an absurd 19-19-8 line, and that was with making just five shots from the field.
The win pushed Milwaukee to a league-best 50-8, on pace for a 71-11 record for the season. Only the West-leading Lakers (45-12) are anywhere close. The Bucks clinched their playoff berth on February 23—the earliest in league history—and they're approaching historic marks in both average point differential and defensive efficiency relative to league average.
All of which is to say: Milwaukee is have an amazing season, by any objective metric. Giannis is still, somehow, ascendent in his skill set and execution, and if he doesn't win another MVP it'll have to take allegations along the lines of him betting on baseball while managing the 1989 Cincinnati Reds.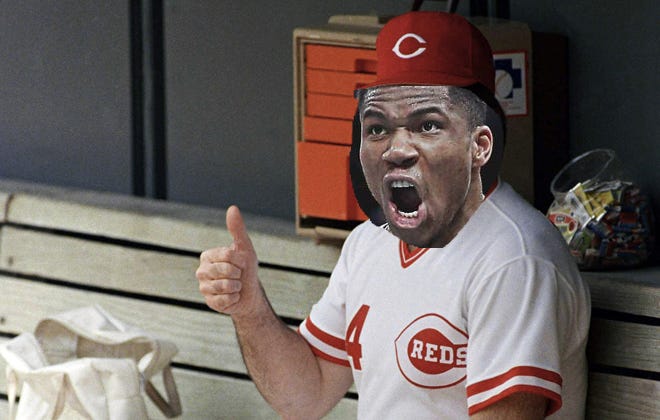 Troubling.
But this is the NBA. The Narrative Basketball Association demands precisely one thing from its stars, and that is championships. We remember how Giannis and the Bucks won the East last season, too, and we remember that they took four consecutive Ls in the Eastern Conference Finals. So now we get ESPN's Screaming Heads demanding that the Bucks win a championship before they're granted any lasting praise (not sure how many times other championship teams had hoisted Larry O'Brien trophies in February, but I don't think it's any of them).
The argument is easy, lazy and predictable. The triumvirate of tiresomeness. It adds nothing, yet it's always there and always will be, like truffle oil on a bad bistro's pasta menu. It does a radical disservice to a generational player like Antetokounmpo, and the only way to make it go away is if the Bucks win the whole dang thing.
If you're reading this post and you haven't subscribed to my newsletter yet, you're letting the dreaded Corona-Virus win, and then what—we could all be dead by sundown! Don't risk it. Subscription is totally free and it makes my brain chemicals dance.
So that's what I'm hoping for. I don't want the Giannis coverage to be half "he can't win in the postseason" and half "when will he leave Milwaukee?"—where is the fun in either of those? At least the last time the Bucks had a seven-footer putting up outrageous, MVP-type seasons then leaving for the Lakers, he had the good fortune of bringing them a title first.
LeBron vs. Giannis has been All-Star Game gold. Let's see the real thing in the NBA Finals.
STICK TO NOT SPORTS
Yeah, A Cauli-Flower!
If I had to pick a top five of my comedic influences, Norm Macdonald is absolutely on the list, and he's not number five*. He's a legendary talk show troll, crafts bizarre and ornate jokes, and provided such a deconstructive presence at the Weekend Update desk that 20 years later they're still trying to piece the format back together.
*Number one? You guessed it.
Back in 2008, Norm Macdonald was a featured guest on the Bob Saget roast (as we learned later, at Saget's insistence) and what he delivered was an absolute masterclass in subversive humor. He showed up to a roast—arguably the most lawless, venomous comedy medium today—and told the shittiest jokes imaginable.
The audience is dumbstruck, with just a smattering of laughter. Occasionally, Norm holds for applause, and he gets it, but none of these jokes ever kill. That's rather by design. Shout out to the one guy at 5:12 winning the gold medal in the Not Slick Olympics, at least.
And despite the crowd's overwhelming bewilderment,
Most people—other comedians, other writers—have spent plenty of time discussing the "what" of Norm's performance. The larger question hanging over it, though, is "why?"
For that, pay attention to two things—first, Norm's comments at the end:
In all seriousness, Bob was the first comedian that I ever saw perform, when I was a boy—live—and I loved him. But one thing that bonds us as comedians is we're bitter, and jealous, and we hate everyone else that has any success. But Bob honestly has never had an unkind word for anybody, and I love him, and I hope everybody else does, so, I just wanna say that. Thank you.
Now, all of these roast segments end with praise and kindness. That's not unusual; in fact, it's the only aspect of this whole thing where Norm does what he's supposed to do. But even here, his remarks are disarmingly friendly, unrehearsed—and informative. Bob is very special to him, and he's exceptionally kind. Norm—who had not done a Comedy Central roast prior to this and has not done one in the 12 years since—would not honor such a friend by wallowing in the same acerbic muck as everyone else. That premise, THAT was the ripest for mockery. And since he wasn't the last to go on—how the hell do you follow the guy who just, well, roasted the very concept of a roast?
(This is all essentially confirmed by Norm when he was on Marc Maron's podcast in 2012. Norm mentions that the producer told him the night before to "be shocking," and classically, Norm takes the advice in a much, much different direction than intended. You can listen to the whole exchange here.)
The second thing to pay attention to is Saget's face the whole time. He didn't see this coming, but he is absolutely delighted the whole time. He's surprised, absolutely, but he also understands, on some level, what Norm's doing and why. The note about being the first comedian Norm ever saw? Bob certainly must know that, and it follows that as an old, kind friend, he knows that roasts aren't Norm's thing. He sees, long before the emotional epilogue, that Norm's performance isn't a roast, it's a thoughtful gift from one friend to another.
Anyway, I love it, and I hope everybody else does, so, I just wanna say that. Thank you.
STICK TO DOGS
Have a great Friday everyone!
One of the best things going on Instagram today is "Suzyn Pupman," an adopted dog who was cold, starving and limping on a rainy December night when the wind blew open a Philadelphia door for her to walk into for the night. Of all the doors in the city, she was blessed with a family with a resident dog (Jorge Pawsada) and a newborn baby and a penchant for social media, and what has ensued is nothing less than miraculous.
Rather than the completely reasonable stance that a couple with a 1-month-old daughter doesn't have time to take on a second dog, especially one that just showed up out of nowhere with a bevy of health issues, the Jokinens quickly decided that they would give 9-year-old Suzy the twilight years she deserved.
She's now receiving overdue medical care, gaining weight, and becoming part of her new, accidental family:
2 months ago today, I found an open door in a storm. I weighed 19lbs, was covered in fleas and ticks, wasn't vaccinated, could only use 3 paws, and had rotting teeth.
Today I weigh almost 25lbs, am clean, can run on all my paws, am vaccinated and my mouth doesn't hurt anymore. On top of that, I have helped inspire 3️⃣0️⃣ adoptions and am loved by my family and all of you.
No matter how bad things look, a little love and attention can turn it all around for any person or animal.
#adoptdontshop
We're going to figure out "rolling over" together Joey
Most importantly, Suzy's inspiring dozens of adoptions around the country, bringing that same miracle to so many other dogs that need it just as much.
Good family. Good girl.
STICK TO SHAMELESS SELF-PROMOTION
On Senior Night, Braydon Roberts hails senior Kathleen Doyle, who filled the impossible role of keeping the Hawkeye basketball juggernaut moving after last season:
When we look back on this stretch of Iowa basketball history a decade or two from now, our first thought will probably be of Megan Gustafson. Or it might be of the Caitlin Clark years yet to come. But we should never forget how Doyle came to Iowa as a highly rated recruit and left as one of the most well-rounded players in program history. I don't know if she'll win Big Ten Player of the Year this year, but she darn well deserves to.
STICK TO AFFIRMATIONS
Thanks for joining me today. We'll always end on a kind word.
We're all our own toughest critics at times, but make sure you're also your own biggest fan whenever you can. If something's worth working hard for, it's worth enjoying. Take pride in yourself. You deserve it.
That's all.